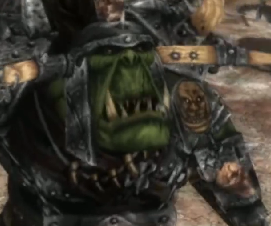 Captured by the Dark Elves in one of their slave raids, Gorbash was taken in chains to the icy realm of Naggaroth. He was forced to fight in brutal pit-fights for the amusement of the Dark Elf nobility. He grew large and strong as he defeated everything thrown at him. Over the years he fought all manner of creatures for the entertainment of the braying crowd.
When Lilaeth purchased him from his slave-master and promised him freedom, Gorbash was suspicious. However, the Sorceress lived up to her side of the bargain and transported him back to the Orc infested Bad Lands, telling him to raise an army and to cross the mountains - she would guide him to a battle of a far grander scale than he could ever have dreamed of.
So it was that Gorbash returned to his homeland. With his size and brute strength from years of pit-fighting, he slaughtered the Warboss of his old tribe and took the position himself. Leading his tribe, he headed for the mountains, eager for more slaughter and bloodshed.
Ad blocker interference detected!
Wikia is a free-to-use site that makes money from advertising. We have a modified experience for viewers using ad blockers

Wikia is not accessible if you've made further modifications. Remove the custom ad blocker rule(s) and the page will load as expected.